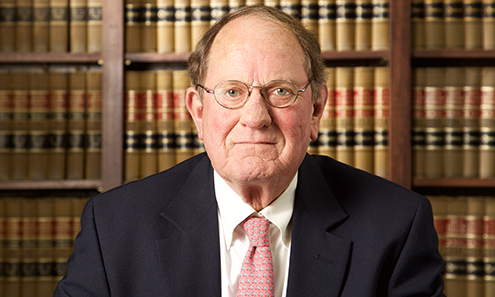 PEDEN B. McLEOD
Attorney Peden B. McLeod, was trained in law at the University of South Carolina School of Law. He spent a decade in the US Army Reserves, served 2 years on the Walterboro City Council, seven years in the South Carolina House of Representatives, and over a decade in the South Carolina Senate.
email: pbm@mfclawfirm.com
---
Areas of Practice:
Representation of Defendants and Insurance Companies in Accident Cases
Representation of Plaintiffs in Tort Litigation
Probate of Estates
Banking Law
Civil Litigation in all courts
General Practice
---
Law Related Experience:
Law Clerk to Hon. C.E. Simmons, Jr., U.S. District Judge, Dist of SC, 1967-1969. Commissioner, National Conference of Commissioners on Uniform State Laws, 1993- present. (life member)
Permanent Member, U.S. Fourth Circuit Judicial Conference.
---
Select Clients:
United States Land & Timber Co.
Walterboro Motor Sales Co.
South Carolina Insurance Reserve Fund
Bonnie Doone Inc.
MeadWestvaco
Ivanhoe Industries, Inc.
Union Camp / Plum Creek
Education:
Asheville School
Wofford College, A.B. History and Government, 1962
Blue Key, (President, 1961-1962) Kappa Alpha Order (President) Junior Class President
Senior Class President
University of South Carolina School of Law, J.D., 1967
Graduated Third in Class
Phi Delta Phi (President, I 967) Member, Society of Wig and Robe.
Member Editorial Board, University of South Carolina Law Review, 1966-1967
Military Service:
Captain, United States Army Reserves, 1962-1973
---
Government Service:
Member, South Carolina Senate, 1979-1990
Member, South Carolina House of Representatives, 1972-1979
Member, Walterboro City Council, 1970-1972
Member, South Carolina House of Representatives, 1972-1979;
Assistant Majority Leader and Chairman of Appropriative Review Committee (1976-1979).
Member, 1979-1990 and Chairman, Medical Affairs Committee, I988-1990, South Carolina State Senate;
Director, South Carolina Legislative Council and Code Commissioner of South Carolina, 1990-1998;
Medical University of South Carolina Board of Trustees (1998-1990)
Legal Associations and Memberships:
South Carolina Bar (Member, House of Delegates, 1975-1983)
Colleton County Bar Association
American Bar Association
---
Other Associations and Memberships:
Founder and Chairman of Board of Directors (1989-Present), Bank of Walterboro
Commander, American Legion Post 93 (1971-1972) District Chairman Boy Scouts of America (1967-1971) Member SC Commission on the Future
Member Omar and Coastal Shrine Member Scottish Rite of Freemasonry Member Walterboro Elks Lodge Member Unity Lodge #55 AFM
---
Honors
Outstanding Young Alumnus of the Year, Wofford College
University of South Carolina Appreciation Award
American Academy of Family Physicians, SC Chapter Appreciation Award
USC Salkehatchie Library name Peden McLeod Library
---
Admissions:
State Bar of South Carolina
U.S. District Court for the District of South Carolina
U.S. Supreme Court